LionMail @ Columbia
Also known as Gmail. Formerly known as Cubmail and Cyrus.

LionMail is Columbia's state-of-the-art email, contacts and calendaring system, powered by Google. It provides a secure and convenient way to send and receive mail from any location using just a web browser such as Chrome, Firefox, Internet Explorer or Safari. The supported browsers are the current and the previous release of your preferred browser. Please remember that the Gmail web interface is CUIT's only fully supported method for reading LionMail.
All Columbia University Morningside students, faculty and staff have LionMail, though some administrative departments have opted to use Outlook Exchange. CUIMC students, faculty and staff use the CUIMC email system. CUIMC affiliates do not use LionMail.
LionMail Drive for file storage and collaboration, including Google Docs, Sheets, and Slides
Unlimited mail and Drive storage
Log in with your UNI and password
Email address is UNI@columbia.edu
Easy access with the modern LionMail web client, or, with extra configuration, use your mobile device or desktop mail client
Access to the Columbia directory from within LionMail (LDAP)
Tag messages with multiple labels and choose from multiple importance markers
Fast searching, including on the full message text
Sharable calendars for coordinating with your friends, teams, and colleagues
Columbia University is committed to ensuring equal access to information, programs and activities through its technologies, web pages, services and resources for all its constituencies, including people with disabilities. The infrastructures behind LionMail and LionMail Calendar are fully compatible with client software such as Outlook, Thunderbird and Apple Mail; these clients can in turn be used with common screen-reader software.
Attention Faculty: At no time can LionMail Drive be made a course requirement.
Please follow our general LionMail accessibility guidelines for making your Google Documents accessible to people with disabilities. The Google Administrator Guide to Accessibility provides further information on accessibility and Google Apps, including Google Drive.
If you encounter any difficulties or have questions about using assistive technologies or creating accessible documents with Google Drive, please contact CUIT by calling 212-854-1919 or sending an email to askcuit@columbia.edu.
This information applies to students, faculty, and staff on the LionMail system.
Log out of other Google accounts
Although it is possible to be logged in to a personal Google account and LionMail at the same time, you should log out of all personal Google accounts the first time you log in to LionMail.
Go to google.com
To end you Google session, click your account photo or email address in the upper right corner and select Sign out
Log in to LionMail
Go to lionmail.columbia.edu
Enter your UNI in the UNI field
Enter your UNI password in the password field
First Time Log In Only: You will be presented with the screen below. To use LionMail, you must choose I Accept. Continue to my account. 
Find out more about the standard Google terms of service.
Do not enter your device password in the password field. Your device password is used to access LionMail only from a mobile device or desktop mail client (i.e. when you are not using a web browser).
If you have access to multiple @columbia.edu email addresses, you can easily switch from your primary address to another without having to log out.
First, you will need to add and verify the alternate email address:
Sign in to your LionMail.
Click on the gear icon in the upper-right hand corner of the screen, and select Settings.
Click on the Accounts tab.
Under Send mail as, click Add another email address.
In the pop-up window, enter the name (usually your own, but can also be the name of a department or club) and alternate email address.
Click Next Step >> and then click Send Verification. LionMail will send a verification message to your other email address to confirm your ownership.
Locate the message in your alternate email account and open it. Either click the confirmation link contained in the message, or enter the confirmation code in the Accounts section of your Google Apps and email settings.
If you don't receive the confirmation email, submit a ticket to the CUIT Service Desk for assistance.
Messages that you send will appear to be from the send-as address. The return-path of the message will indicate your primary mail addresses, but only recipients who examine the original message header will notice.
To edit the name, configuration, reply-to address or to delete an existing email address, return to Settings > Accounts, and click edit or delete next to the email address that you would like to alter.
Sending mail from your alternate email address:
Click Compose in LionMail to open a new message.
Click on your email address in the From field to display all addresses you can send as, and click the one you would like to send from. You can also do this if you are replying to or forwarding a message.
No. The migration process is determined by CUIT and the deans of individual schools.
LionMail provides advantages over ordinary Google accounts including improved security and support from CUIT. Furthermore, LionMail has many small conveniences, such as not showing ads and using the Columbia Directory to quickly suggest contacts. It's also a great way to share calendars within the Columbia community.
No, you will not be able to use your Columbia address as the alternate email address for your personal Gmail account. However, you will still be able to use your Columbia address as your password recovery email address.
Yes. The limit is 10 simultaneous connections. This limit comes into play if you use more than one device (computers, smartphones, other mobile devices) to connect to LionMail at the same time.
Labs are experimental features that Google has not yet incorporated into the basic applications. You can turn individual labs on to try them out. Google says that because they are experimental, they can change, break, or disappear at any time.
You can enable individual labs in LionMail by going to Settings and selecting Labs.
While there are many labs out there, here are a few that are highly recommended:
Auto-advance (by Bruce D)
Automatically shows the next conversation instead of your inbox after you delete, archive, or mute a conversation. You can select whether to advance to the next or previous conversation in the "General" Settings page.

Canned Responses (by Chad P)
Email for the truly lazy. Save and then send your common messages using a button next to the compose form. Also automatically send emails using filters.

Custom keyboard shortcuts (by Alan S)
Lets you customize keyboard shortcut mappings. Adds a new Settings tab from which you can remap keys to various actions.

Google Calendar gadget (by Ben K and Garry B)
Adds a box in the left column which shows your Google Calendar. See upcoming events, locations, and details.

Mark as Read Button (by Mark K)
Tired of spending all that effort to click on the more actions menu every time you want to mark messages as read without reading them? Now just enable this lab and that is just a button click away!

Multiple Inboxes (by Vivi)
Add extra lists of emails in your inbox to see even more important email at once. The new lists of threads can be labels, your starred messages, drafts or any search you want, configurable under Settings.

Preview Pane (by Peter B & Michael K)
Provides a preview pane to read mail right next to your list of conversations, making mail reading faster and adding more context.

Unread message icon (by Manu C)
See how many unread messages are in your inbox with a quick glance at the tab's icon. This lab only works with Chrome (version 6 and above), Firefox (version 2 and above), and Opera.
It's a personal Gmail account that was created and associated with an @columbia.edu email address. 
When you log in to LionMail, you can click on the "Get started" link to go through the process of resolving your conflicting account. Your data from this account will be preserved in a new account that you will be able to set up outside of your new LionMail account. If you do not want to resolve your Conflicting Account at this time click on  "Do this later" to access your account.
If you're ready to resolve your conflicting account, you can migrate all of your data to either a new Gmail account or an existing non-Gmail account. Either way, you must begin by logging in to your conflicting account:
Log out of any current Google sessions and log in using the following email (user name) and password:
Email: uni%columbia.edu@gtempaccount.com
For example if you previously logged in to the old account with uni@columbia.edu, you will now use uni%columbia.edu@gtempaccount.com.
Password: use your old Google password, not your UNI password. If you don't remember your password, you can retrieve it by going to https://www.google.com/accounts/recovery
Now you can select to move your data to either:
A) An account with Gmail and a new gmail.com address
B) An account with a non-Google email address that you already own. You cannot choose an existing Google account during this process.
Click Continue once you have made your selection.
---
Option A: Associating your account with a new Gmail address
         A. Fill in the First name and Last name fields. In Desired Login Name, choose a unique email address for your new Gmail account.
         B. Click on check availability to make sure the login name you selected is available.
         C. In the Current Password field, enter the password you used to log in to the Conflicting Account.
         D. Choose a question from the Security question menu and write the answer in the answer field.
         E. In the Recovery email field, enter an email address that will be used to regain access if you forget the password to your Google account.
         F. Click Continue.
     2. Verify your account with a text message or phone call by providing the country you're currently located in, your phone type and your phone number and clicking Send verification code.
     3. Enter your verification number and click Verify to complete the sign-up process.
---
Option B: Associating your account with an existing non-Google address
         A. In the New email address field, enter a non-Google email account that you own.
         B. In the Current password field, enter the password you are using to log in to your conflicting (original) Gmail account.
         C. Click Save email address to continue.
     2. Verify your new email address by providing an email address that you can access to send a verification email to. Google will send you an email and you will need to click on or copy the link they send you.
     3. Your email address is now confirmed, you should see a message similar to the below.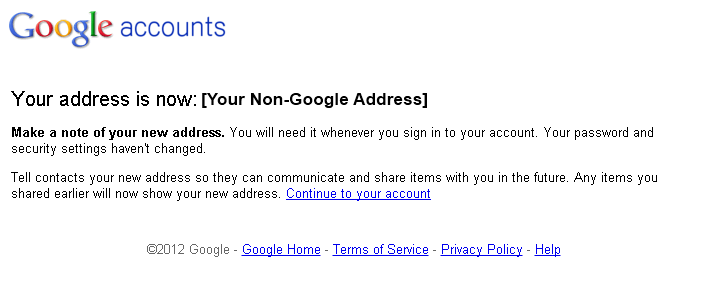 In August 2018, CUIT enabled the Google's new Gmail design for all student, faculty, and staff on LionMail. The new look maintains the same functionality as the previous design, but offers an improved user experience. Some enhancements include:
Snooze: Flag an email to re-appear in your inbox tomorrow, this weekend, or on a specific date and time of your choosing.
Nudges: Potentially important emails are occasionally pushed to the top of your inbox after a few days of non-response.
Smart Compose: Adding to Smart Reply, Google's suggested quick response buttons available on the Gmail app, Smart Compose predicts text to complete sentences in your emails.
Side Panel: View your calendar, Google Keep (note-taking app), or Google Tasks (to-do app) alongside your email messages, instead of switching between tabs.
Google will require all users to use the new Gmail design by the end of October 2018.
As of October 2018, Google no longer offers users the option to revert back to the "classic" Gmail look. If you prefer the classic look, there are some settings you can update to make the modern design display more similar to the classic design.
Click the gear in the upper-right corner of LionMail and select Display Density and choose Compact.
Click the gear in the upper-right corner of LionMail and select Settings:
In the General section, under Hover Actions, choose Disable hover actions. You can also turn off Smart Compose (the predictive writing suggestions) and Nudges (reminders to reply to emails) in this section.
In the Themes section, scroll down and select the High Contrast theme.
No. Your LionMail account will be completely separate from any personal Gmail account you may have.
Mailbox sizes are unlimited, however single messages are limited to 25MB.
LionMail includes a powerful set of sorting rules. Using filters, you can automatically label, archive, delete, star, or forward your mail, even keep it out of Spam.
To create a filter
Click the down arrow in your search box. A window that allows you to specify your search criteria will appear.
Enter your search criteria. If you want to check that your search worked correctly, click the search button.
Click Create filter with this search at the bottom of the search window. If you need to verify the search results, you can click the x to collapse the filter options. Clicking the down arrow again will bring the window back with the same search criteria you entered.
Choose the action(s) you want the filter to take. To keep organized, many people like to have incoming messages automatically labeled and removed from their inbox until they can look at them later at a more convenient time. If you want to do this, make sure to select Skip the Inbox (Archive it) and Apply the label: when you create your filter.
Click the Create filter button.
Please note: When you create a filter to forward messages, only new messages will be affected. Any existing messages that the filter applies to will not be forwarded.
To use a particular message to create a filter
Select the message in your message list.
Click the More button, then Filter messages like these.
Enter your filter criteria in the appropriate field(s).
To edit or delete existing filters
Click the gear icon in the upper right corner of LionMail and select Settings.
Click the Filters tab.
Find the filter you'd like to change and click edit or delete to remove the filter.
If you're editing the filter, enter the updated criteria for the filter in the appropriate fields, and click Edit filter actions.
Update any actions and click the Update filter button.
You can create an unlimited number of filters, but only 20 filters can forward to other addresses.
A signature is a bit of personalized text (such as your contact information or a favorite quote) that is inserted automatically at the bottom of every message you send. 
To create a signature
Click the gear icon in the upper right corner of LionMail, then select Settings.
Enter your new signature text in the box at the bottom of the page next to the Signature option.
Click Save Changes.
Signatures are separated from the rest of your message by two dashes. To see a signature in LionMail, click the Show trimmed content button [...] at the bottom of the message.
Please note:
If you notice extra characters (such as * or >) being added to your signature after you send mail, it's because some versions of LionMail don't support rich text and we've converted some of your formatting. For example, when you send from LionMail using Safari on iPhone, any text you bolded in your signature will be marked with asterisks (i.e., example will show as *example*).
For rich text signatures, the maximum amount of characters you can use is 10,000 (including HTML markup).
If you send mail "from" multiple addresses in LionMail, you can set a different signature for each address in the General tab of your settings. Choose the second radio button in the "Signature:" section, use the drop-down menu to choose the appropriate address and set the signature you want.
If you're editing your signature and only have an option to create a plain text signature, this is due to your current compose message settings. Click Compose to create a new message, then click the Rich formatting option in the message. Once this change is made, you'll be able to create a rich text signature.
CUIT's email gateway filters block most identifiable spam. When spam gets past the gateway, in most instances, the message is caught by Google's filter and delivered to your Spam folder in LionMail. With both those filters in effect, you normally see very little spam in your inbox. When a message is in the grey area of "possibly spam", it is allowed through the gateway so that you can find it in your Spam folder and judge for yourself.
If you think you should have received a message and do not see it, first check the Spam folder. If you find it there, click on Not Spam to help teach LionMail what is not Spam. If the message is not in the Inbox or Spam folder, please send a request to the CUIT Service Desk with the sender's address and the date and time that the message was sent, and CUIT staff will check logs to determine what may have occurred.
If you receive spam in your Inbox, you can click on the "Report Spam" button to help teach LionMail that the message is spam. You can also report it to CUIT by forwarding the message to spam@columbia.edu.
Labels are used to categorize your messages. Labels are like folders, but with a twist: You can apply multiple labels to a message, so you can "store" a single copy of a message in multiple labels. You can also:
Open a label on the left side of your Mail window to see all messages with that label.
Search for all messages with a label.
See labels on messages in your Inbox, to quickly identify different types of messages.
You can make your labels easy to identify by applying different colors to them. Here's how labels look in your inbox:

To create a label
Select or open any of your email messages to display the Labels icon in the toolbar.
Click the Labels icon and then click Manage labels: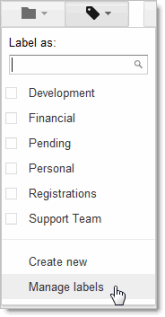 3. Under Labels, in the Create a new label field, type the name of your new label, and then click Create. 
Tip: Select the Nest label under option if you want to add a sub-label to an existing label. For example, you might add a sub-label for each day of the week under a parent label called "To Do."
To apply a label to messages and keep them in the inbox
Select the check box next to the messages you want to label, then click the Labels icon.
Select the label name from the Labels drop-down menu and click Apply. You can select more than one label.
Tip: You can create a new label or search your label list by typing a label name in the search box at the top.
To apply a label to messages and move them out of the inbox
If you want to move messages out of your Inbox at the same time that you apply one new label to them, use the Move to menu instead of the Labels menu.
Select (or open) your email message (or messages) that you want to move.
Click the Move to icon and select a label.
Alternatively, you can just drag the message to the label.
Click and hold near the box to the left of the message...
…and then drag the message to a label's name.
To move messages out of your inbox without applying a new label
Select one or more messages in your Inbox.
Click the Archive icon in the toolbar.
To view a labeled message that you've archived, just click the Archive label in the left pane. (If you have a lot of labels, you might need to click More or scroll down to see your label.)
To change the color of a label
In your Labels list (to the left of your list of emails), hover over the label and then click the down arrow that appears.
Select a color from the palette that appears. The change is instantly applied to all messages with that label.
Tip: Not enough colors? Click Add custom color for more options.
You can create a filter that applies a label while also selecting the option Skip the Inbox (Archive it). 
Yes. Enter your UNI@columbia.edu in the username field and leave the password blank. Click the Sign in button and you will be redirected to the LionMail Sign in Page. Then, enter your UNI and password to log in to your LionMail account.
You can see your deleted messages by selecting the label/folder named Trash. (You may need to click All at the bottom of your label list in order to see the Trash label.) Open the message you want to recover, and click the small "x" next to the Trash label. (If you hover over the "x," you will see "Remove label Trash from this conversation.") Messages will remain in the Trash for 30 days and then will be expunged automatically. Once a message is expunged, it cannot be recovered.
You can create a filter that will allow you to see such messages in your inbox. First, conduct a search using the following format:
from:uni@columbia.edu AND (to:uni@columbia.edu OR cc:uni@columbia.edu OR bcc:uni@columbia.edu)
Replace uni@columbia.edu with your email address and conduct the search. Click on the down arrow next to the search box and at the bottom of the menu select Create a filter with this search. From the next menu, click on the checkbox next to Never send it to Spam. Click Create filter to finish the process.
If you forward an email from another email system to LionMail, the time and date stamp of the moment you forwarded the message to LionMail will appear. If the email message was moved by CUIT to LionMail on a scheduled migration date, the original time and date should appear in the email headers. You can also click and drag an email from another email system to LionMail using an imap client such as Thunderbird. If you are an Outlook user, you can add a sent date column to sort emails by their sent dates: right-click on one of the columns and select View Settings. Click on Columns. On the window that pops up, select Sent under Available columns then click Add. Click OK.
In the LionMail web interface the chat area is located in the lower left hand corner of the screen. Click on an existing contact or enter a contact's UNI in the chat search box to send them a chat request. After they accept, you can start your conversation. It's that easy!
You may be clicking on the Archive button on the lower left side of the compose box. To disable that button, click on the gear the upper right corner of your LionMail screen and choose Settings. In the General tab, select the button for Hide "Send & Archive" button in reply. Scroll down and click Save Changes.
Yes, there are two ways:
Merge your contacts manually
To merge two or more contacts manually:
Select the contacts you'd like to merge from your Contacts List.
Click the More drop-down menu and select Merge contacts.
Make any edits if there are any changes you'd like to make.
Click Save at the top of the page.
Automatically find and merge your contacts
The system can find and merge your contacts automatically, as well as duplicate data within contacts. To find and fix all of your duplicate contacts at once:
Open Contacts.
Click the More drop-down menu and select Find and merge duplicates.
The names of all contacts with duplicate data will be displayed. If an entry has only one contact, then the contact itself has duplicate data (e.g., repeated phone numbers, emails, etc.). If an entry has two or more contacts, be sure to check whether these are duplicate contacts and not different contacts with similar names. To expand each contact, click on the details next to each one and uncheck any contacts that you don't want to fix.
When you're ready, click Merge at the top of the list.
 If you would like to undo any of the changes you've made, click the More drop-down menu and select Restore contacts.
The contract between Columbia and Google ensures the security of data. Columbia, not Google, owns all of the data that passes through LionMail accounts.
Columbia maintains the standards and policies that it always has regarding non-disclosure restrictions.
Unlike with personal Gmail accounts, Google can use your personal data only to make your experience better (e.g., to suggest related recipients when you send an email). Google has an official statement about Google Apps for Education customers,
All LionMail data will be stored on servers in the United States.
The core LionMail services (Mail, Calendar and Contacts) are all covered by the contract between Columbia and Google. The additional terms of service will affect services that may be available for your LionMail account at a later date. These services would be available while logged in to your LionMail account but would be governed by the normal consumer terms of service.