LionMail @ Columbia
Also known as Gmail. Formerly known as Cubmail and Cyrus.

LionMail is Columbia's state-of-the-art email, contacts and calendaring system, powered by Google. It provides a secure and convenient way to send and receive mail from any location using just a web browser such as Chrome, Firefox, Internet Explorer or Safari. The supported browsers are the current and the previous release of your preferred browser. Please remember that the Gmail web interface is CUIT's only fully supported method for reading LionMail.
All Columbia University Morningside students, faculty and staff have LionMail, though some administrative departments have opted to use Outlook Exchange. CUIMC students, faculty and staff use the CUIMC email system. CUIMC affiliates do not use LionMail.
LionMail Drive for file storage and collaboration, including Google Docs, Sheets, and Slides
Unlimited mail and Drive storage
Log in with your UNI and password
Email address is UNI@columbia.edu
Easy access with the modern LionMail web client, or, with extra configuration, use your mobile device or desktop mail client
Access to the Columbia directory from within LionMail (LDAP)
Tag messages with multiple labels and choose from multiple importance markers
Fast searching, including on the full message text
Sharable calendars for coordinating with your friends, teams, and colleagues
Columbia University is committed to ensuring equal access to information, programs and activities through its technologies, web pages, services and resources for all its constituencies, including people with disabilities. The infrastructures behind LionMail and LionMail Calendar are fully compatible with client software such as Outlook, Thunderbird and Apple Mail; these clients can in turn be used with common screen-reader software.
Attention Faculty: At no time can LionMail Drive be made a course requirement.
Please follow our general LionMail accessibility guidelines for making your Google Documents accessible to people with disabilities. The Google Administrator Guide to Accessibility provides further information on accessibility and Google Apps, including Google Drive.
If you encounter any difficulties or have questions about using assistive technologies or creating accessible documents with Google Drive, please contact CUIT by calling 212-854-1919 or sending an email to askcuit@columbia.edu.
This information applies to students, faculty, and staff on the LionMail system.
Log out of other Google accounts
Although it is possible to be logged in to a personal Google account and LionMail at the same time, you should log out of all personal Google accounts the first time you log in to LionMail.
Go to google.com
To end you Google session, click your account photo or email address in the upper right corner and select Sign out
Log in to LionMail
Go to lionmail.columbia.edu
Enter your UNI in the UNI field
Enter your UNI password in the password field
First Time Log In Only: You will be presented with the screen below. To use LionMail, you must choose I Accept. Continue to my account. 
Find out more about the standard Google terms of service.
Do not enter your device password in the password field. Your device password is used to access LionMail only from a mobile device or desktop mail client (i.e. when you are not using a web browser).
If you have access to multiple @columbia.edu email addresses, you can easily switch from your primary address to another without having to log out.
First, you will need to add and verify the alternate email address:
Sign in to your LionMail.
Click on the gear icon in the upper-right hand corner of the screen, and select Settings.
Click on the Accounts tab.
Under Send mail as, click Add another email address.
In the pop-up window, enter the name (usually your own, but can also be the name of a department or club) and alternate email address.
Click Next Step >> and then click Send Verification. LionMail will send a verification message to your other email address to confirm your ownership.
Locate the message in your alternate email account and open it. Either click the confirmation link contained in the message, or enter the confirmation code in the Accounts section of your Google Apps and email settings.
If you don't receive the confirmation email, submit a ticket to the CUIT Service Desk for assistance.
Messages that you send will appear to be from the send-as address. The return-path of the message will indicate your primary mail addresses, but only recipients who examine the original message header will notice.
To edit the name, configuration, reply-to address or to delete an existing email address, return to Settings > Accounts, and click edit or delete next to the email address that you would like to alter.
Sending mail from your alternate email address:
Click Compose in LionMail to open a new message.
Click on your email address in the From field to display all addresses you can send as, and click the one you would like to send from. You can also do this if you are replying to or forwarding a message.
No. The migration process is determined by CUIT and the deans of individual schools.
LionMail provides advantages over ordinary Google accounts including improved security and support from CUIT. Furthermore, LionMail has many small conveniences, such as not showing ads and using the Columbia Directory to quickly suggest contacts. It's also a great way to share calendars within the Columbia community.
No, you will not be able to use your Columbia address as the alternate email address for your personal Gmail account. However, you will still be able to use your Columbia address as your password recovery email address.
Yes. The limit is 10 simultaneous connections. This limit comes into play if you use more than one device (computers, smartphones, other mobile devices) to connect to LionMail at the same time.
It's a personal Gmail account that was created and associated with an @columbia.edu email address. 
When you log in to LionMail, you can click on the "Get started" link to go through the process of resolving your conflicting account. Your data from this account will be preserved in a new account that you will be able to set up outside of your new LionMail account. If you do not want to resolve your Conflicting Account at this time click on  "Do this later" to access your account.
If you're ready to resolve your conflicting account, you can migrate all of your data to either a new Gmail account or an existing non-Gmail account. Either way, you must begin by logging in to your conflicting account:
Log out of any current Google sessions and log in using the following email (user name) and password:
Email: uni%columbia.edu@gtempaccount.com
For example if you previously logged in to the old account with uni@columbia.edu, you will now use uni%columbia.edu@gtempaccount.com.
Password: use your old Google password, not your UNI password. If you don't remember your password, you can retrieve it by going to https://www.google.com/accounts/recovery
Now you can select to move your data to either:
A) An account with Gmail and a new gmail.com address
B) An account with a non-Google email address that you already own. You cannot choose an existing Google account during this process.
Click Continue once you have made your selection.
---
Option A: Associating your account with a new Gmail address
         A. Fill in the First name and Last name fields. In Desired Login Name, choose a unique email address for your new Gmail account.
         B. Click on check availability to make sure the login name you selected is available.
         C. In the Current Password field, enter the password you used to log in to the Conflicting Account.
         D. Choose a question from the Security question menu and write the answer in the answer field.
         E. In the Recovery email field, enter an email address that will be used to regain access if you forget the password to your Google account.
         F. Click Continue.
     2. Verify your account with a text message or phone call by providing the country you're currently located in, your phone type and your phone number and clicking Send verification code.
     3. Enter your verification number and click Verify to complete the sign-up process.
---
Option B: Associating your account with an existing non-Google address
         A. In the New email address field, enter a non-Google email account that you own.
         B. In the Current password field, enter the password you are using to log in to your conflicting (original) Gmail account.
         C. Click Save email address to continue.
     2. Verify your new email address by providing an email address that you can access to send a verification email to. Google will send you an email and you will need to click on or copy the link they send you.
     3. Your email address is now confirmed, you should see a message similar to the below.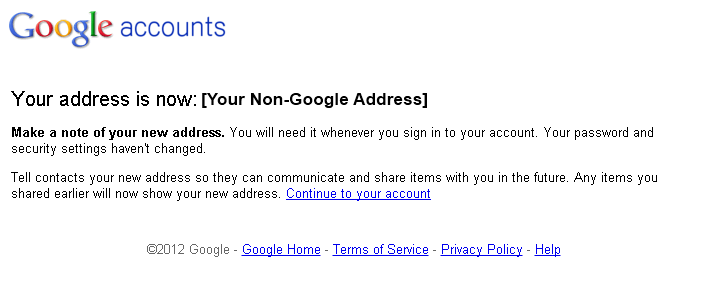 The contract between Columbia and Google ensures the security of data. Columbia, not Google, owns all of the data that passes through LionMail accounts.
Columbia maintains the standards and policies that it always has regarding non-disclosure restrictions.
Unlike with personal Gmail accounts, Google can use your personal data only to make your experience better (e.g., to suggest related recipients when you send an email). Google has an official statement about Google Apps for Education customers,
All LionMail data will be stored on servers in the United States.
The core LionMail services (Mail, Calendar and Contacts) are all covered by the contract between Columbia and Google. The additional terms of service will affect services that may be available for your LionMail account at a later date. These services would be available while logged in to your LionMail account but would be governed by the normal consumer terms of service.