Personal Wireless Router
Sale, installation, and troubleshooting of supported wireless routers in University Apartment Housing.
Also known as Wireless Router Installation Packages, AptNet or UAH Wireless/WiFi.
CUIT offers personal wireless routers for sale and installation in UAH (University Apartment Housing) units that currently have CUIT-wired Ethernet service. These apartments generally have 100baseT Ethernet jacks which can handle the fastest, most up-to-date wireless routers. Some UAH buildings are using slower 10 mb/s connections, but using a robust wireless router is still advisable to maximize coverage distance.
To take advantage of these network connections, provide you with high-quality hardware, and set up a reliable and secure home network, CUIT offers two wireless router and home network installation packages to residents of these Columbia-owned apartments.
To sign up for one of these packages, please note that you must already have a CUIT Ethernet jack. If you don't have one, you can submit a request via the ApartmentNet service page.
Pricing
Netgear R6120: $70 router + $70 installation fee: total one-time cost of $140
Netgear R7000: $130 router + $70 installation fee: total one-time cost of $200
CUIT provides residents with everything needed to have a wireless home network: Delivery and setup of the wireless router, five feet of cables, and the setup of a secure home network. Each router comes with a one-year hardware warranty.
Please Note: These routers are available only as part of the wireless router and home installation package and are not available for sale individually. Payment must be made via personal check or money order (payable to Columbia University). Unfortunately CUIT cannot accept cash, credit card or bill to student accounts or rent.
To ensure that your home wireless network is reliable and secure, and to take full advantage of wireless connectivity in your home, the CUIT technician will also setup a wireless home network connecting up to two of your personal computers. The cost of this is included in the installation charge. Please note that a reliable wireless network may not cover every area of your apartment, depending on the structure of the building, the layout of your unit, and the number of other wireless networks in the area.
Should you require more services in addition to the initial setup, such as adding extra computers to your wireless network or troubleshooting a non-hardware related problem, a CUIT technician can be scheduled to come to your apartment for the standard rate of $60 per hour (minimum 30 minutes).
Wireless Router & Home Network Request and Installation Procedure
Please contact the CUIT Service Desk to begin the process by submitting a self-service web form or calling 212-854-1919. Feel free to ask any questions about which router to order at this time. The technician will ask if your apartment is wired with an Ethernet jack, which is required for wireless connectivity.

If there is no Ethernet jack in your apartment, the Service Desk technician will direct you to a web form to have an Ethernet jack installed in your apartment. 
If there is an Ethernet jack (or after the jack is installed), the Service Desk technician will create a ticket to track your request.

Within 3-5 business days, you will be contacted by CUIT to set up an installation day and time (you must be home for the installation). You can also ask any questions you may have at this time, and then you will be asked to confirm your request for the router and installation.
On your installation day, you will turn on your computer, show the CUIT technician where your apartment's Ethernet jack is located, and pay with your check (payable to Columbia University)
The technician will bring all necessary equipment and cables, as well as your choice of router. The technician will then set up the router, and test it and your home network to ensure it works properly.
The technician will then ask you to test your new wireless connection to confirm that everything is working as expected.
Should you require any further technical assistance, you can contact the CUIT Service Desk by phone at 212-854-1919 or by email at askcuit@columbia.edu.
Important Information for Residents using any other Wireless Router
Brands and models of routers not offered for sale by CUIT are not recommended, and it is inadvisable to use any router that uses the older standards a, b, or g only, as the newer n and ac standards are recommended. General guidelines on setting up your own router are available for your reference.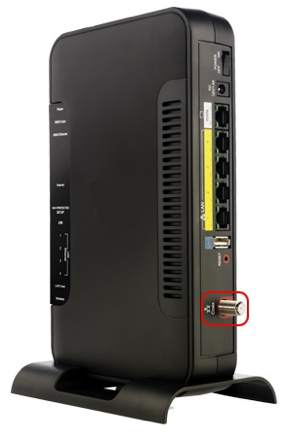 Combination modem/wireless routers are incompatible with the CUIT Ethernet network. If your device has a coaxial cable connection for Verizon FiOS, Time Warner, RCN, or another cable provider connection, or a DSL phone line connection, it is not compatible with our network and will disrupt connections for other users if it is connected.
Please be aware that if your router causes a network disruption, this may result in temporary suspension of your network service. CUIT will not provide refunds for ports disabled due to improperly configured devices (or infected hosts) attached to the Columbia network.
FAQ
Your wireless router will use the incoming Ethernet connection from your wall, which is generally 100Mbps in University Apartment Housing. However, the actual speed that you receive from your wireless router will depend on several criteria. The foremost will be the type of router you have. Wireless routers are most commonly available in two standards:
The 802.11n standard – which has a peak speed of up to 300 Mbps (Depending on router and the available speed of the jack)
The 802.11ac standard – which has a peak speed of up to 1000 Mbps (Depending on the router and the available speed of the jack)
The second parameter that will determine your speed is the wireless card on your computer. The connection will only be as fast as the lowest standard of wireless hardware involved in the connection. For example, if your card is only of the 802.11n standard it will only receive at speeds based on the 802.11n standard, regardless of whether the router you have is of a higher standard, such as 802.11ac.
Aside from hardware, speed will also be impacted by the number of users connected to your router at the same time. Any effect on speed is dependent on the amount of bandwidth usage by each user and the total number of users at a given time.
Lastly, Columbia currently has a bandwidth quota for all users on the Columbia network. You can check if your computer's bandwidth is limited here.
Some models of wireless routers out-of-the box have no security precautions initially set up. The current recommended models sold by CUIT have randomly generated secure passwords set up out-of-the box, and if you buy one on your own, you can connect using the password on the device label and it will automatically guide you to the internet securely.
CUIT will connect up to two of your personal computers included in the installation fee, provided the operating system is supported by CUIT. CUIT will not set up other peripherals to the personal wireless network, such as printers, network backup hard drives, special wireless speakers or cable TV boxes.