Public Printing
PawPrint is Columbia University's student and faculty printing system on the Morningside campus.

PawPrint provides students with a simple and flexible way to print in many locations around the Morningside campus. PawPrint conserves paper by defaulting to double-sided printing, and the two-step submit and release system allows you to think twice before printing. In the 2016-2017 academic year, 20% of submitted documents were never released (printed), saving over 7 million sheets of paper!
The most convenient way to print is to install the PawPrint print driver on your personal computer or laptop.
Benefits and Features of PawPrint
Features

Upload jobs to print now, select where to print later.

Description

When you submit a document to print, it goes to the cloud-based PawPrint Print Center, and you can then visit any PawPrint station to print.
Features

Black-and-white and color PawPrint stations across Morningside campus, as well as stations at School of Social Work and at Barnard College.

Description

A full list of PawPrint printer station types and locations is available.
Features

Send print jobs from any Computer Lab workstation, ColumbiaNet Kiosk, personal computer (on or off-campus), or iOS or Android mobile device.

Description

Support for Computer Lab workstations, ColumbiaNet Kiosks and personal computers remains available. Print jobs can be sent to the cloud from off-campus and printed from a PawPrint station on campus.
Features

Use your Weekly/Semesterly Print Quota(s) or purchase supplemental Printing Dollars.

Description

Printing Dollars can be added within the PawPrint Print Center. In the lower left Payment Method box, there is a link to Add Funds. 
Features

Current print job activity and print job history is available as well as a record of fund activity.

Description

This information can be viewed in the PawPrint Print Center. When you log in, the default view is the Job List page, which shows a list of any uploaded documents not yet printed. The Activity page shows a list of documents already printed and any fund activity related to your account (i.e., any Printing Dollars added.)
Features

Account balances are always available.

Description

The PawPrint Print Center gives immediate, 24/7 access to your print quota and Printing Dollars balances.
Features

Ability to print large files.

Description

PawPrint supports printing documents up to 50MB in size.
Features

Account credit available in the event of print failure.

Description

Account credit may be applied after speaking with a Computer Lab representative.
Features

Cost per black/white document:
10¢ per sheet (single or double-sided)

Description

Cost per color document: $1.00 per sheet (single-sided only) Color printers are available at Butler 304 and International Affairs 323
Features

Supported file types

Description

Microsoft Word
Excel
PowerPoint
PDF
Images
Text files (.csv, .rtf, .txt)
Visio
PawPrint Pilot for Columbia College
The Columbia College Student Council (CCSC) partnered with CUIT in the of Fall 2018 semester to pilot a semesterly quota. The goal of the pilot was to enable students to access their quota in full throughout the entire semester, instead of on a weekly basis. In the Spring 2019 semester, the CC students' semesterly printing quota was increased from $85 to $150. This quota has remained in place since then and the overall pilot will be re-evaluated before the Spring 2021 semester. 
Pilot FAQ
The decision to initiate the pilot was in response to a request from the Columbia College Student Council (CCSC). Because students were frustrated with the current PawPrint quota system—due to having larger printing needs at the beginning and end of the semester—CUIT is hosting the pilot to determine whether a semesterly lump sum allotment, as opposed to the previous weekly one, works better for students' printing needs.
Once the pilot is completed, CUIT will analyze and review the results with the Columbia College Student Council (CCSC) and make decisions regarding whether further testing is needed or if we are going to roll out a new PawPrint printing quota policy.
SEAS students will continue to receive the weekly quota system of $10/week throughout the course of the semester.
If we haven't answered your question, or for more information, please drop us a note at: askcuit@columbia.edu.
Faculty and staff can use PawPrint by purchasing Printing Dollars. In some cases, faculty are provided with a Printing Quota by their school, which can be used to print with PawPrint.
PDF documents, especially scanned books, are often formatted in non-letter-sized paper.
To successfully print the document using PawPrint:
Open the Print dialog.
In the Paper Sizing & Handling section, deselect the Choose paper source by PDF page size as well as the Use custom size when needed checkboxes.
Depending on your print job, check the box for Fit, Actual size, Shrink oversized pages, or Custom Scale.
Click Print.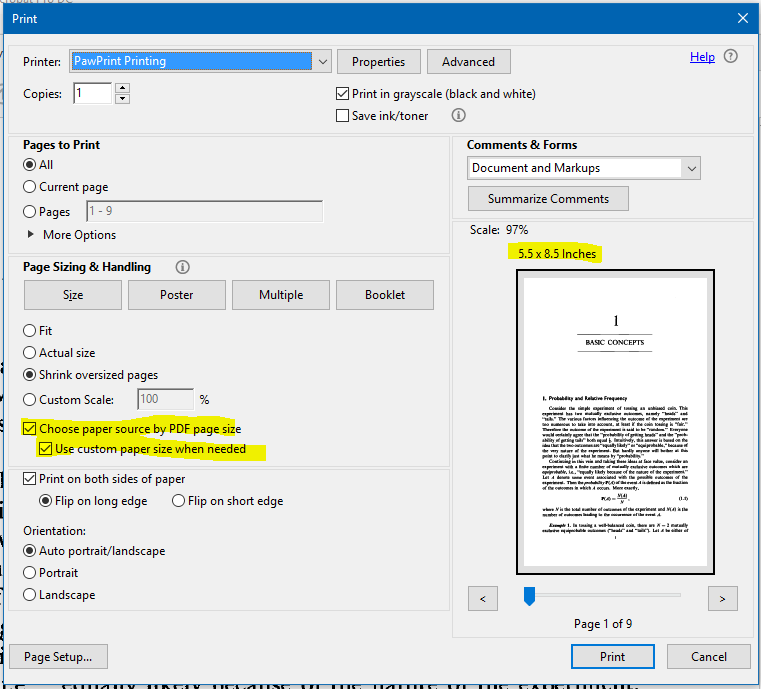 Anytime a computer with macOS is upgraded to a major release, part of that upgrade clears out third-party installations. Please go to https://cuit.columbia.edu/pawprint/drivers, re-download the drivers and re-install them.
PawPrint supports the standard US paper sizes:
Letter (8.5 x 11 inches)
Tabloid (11 x 17 inches)
Print jobs formatted in a different size of paper cannot be submitted to PawPrint. Improperly formatted print jobs that are uploaded to the Print Center will fail to print. Instead, change the paper size from within the document and save it before submitting the print job.
From within a Word document:
Select the Layout tab from the ribbon.
Choose Letter or Tabloid in the Size section.
Save the document.
Yes. Print jobs can printed from off-campus by using a PawPrint print driver (recommended). You can also upload your document into the PawPrint Print Center or via the Pharos Print app from off-campus.
When you reach campus, log in to one of the PawPrint stations to print and pick up your document.
Much like printing via the PawPrint Print Center, you can upload a document to the PawPrint queue with your iOS or Android mobile device with the Pharos Print App. After your document is uploaded, you will need to release it at at PawPrint Station on campus.
Currently PawPrint drivers are not supported on the Chrome operating system. However, ChromeOS users can easily upload print jobs to the PawPrint Print Center using a web browser. Please note: Google Documents cannot be uploaded to PawPrint. They will need to saved as a supported file type, such as Microsoft Word or PDF.
Currently, PawPrint drivers are not supported on the Linux platform. However, Linux users can easly upload print jobs to the PawPrint Print Center using a web browser.
CUIT weekly quotas reset between Saturday night and Sunday morning; specifically on every Sunday at 12:10am, just after midnight.
Semesterly quotas reset on the first day of each semester.
While emails can be printed with PawPrint in the same way as any other document, PawPrint does not currently support printing by emailing a document to a printing address. Documents may be printed by uploading to the PawPrint Print Center from your computer or movile device, or using the PawPrint printer driver from an open application on a personal or CUIT-provided computer. Detailed instructions are available on the PawPrint Quick Start page.
Color printing is available at both Butler 304 and International Affairs 323, single-sided, for one dollar per sheet. When printing in color, you must use the PawPrint color print driver.
Yes. After you upload the document to the PawPrint Print Center, you can change the range of pages to be printed, pages per side, and amount of copies, on the Print Options section of the PawPrint Print Center.
Printing multiple pages (up to 16) on a single side of a sheet is possible in PawPrint, but requires that you print using the PawPrint driver, rather than upload the document to the PawPrint Print Center. By using the driver, you will have access to a multitude of printing options that are simply not available using the PawPrint Print Center. For instructions on printing with the PawPrint driver, visit the PawPrint Quick Start Guide.
If your print job fails to complete successfully, due to an issue with the PawPrint system, PawPrint will automatically identify the job as failed and mark the job as a "Free Print" in the PawPrint Print Center as well as on the PawPrint station screen. You can then print the job within 8 hours of the print failure from any other PawPrint station without incurring additional charges against your Quota or Printing Dollars.

If your job fails because of a printer-specific issue, such as a printer jam, PawPrint will not automatically credit you for a free print. In these cases, you will need to speak to a Computer Lab representative who can assist you and credit your account if applicable. You can also use the PrinterFix app to notify a technician of the printer issue.
Once purchased, Printing Dollars are non-refundable. In certain cases of printer malfunction, account credit may be applied after speaking with a Computer Lab representative. To receive a refund, you must physically bring all substandard printed sheets to the attention of a CUIT staff member at any of the following locations:
213 Butler
251 Engineering Terrace
251 Mudd
323 International Affairs Building
215 Lehman Library
202 Philosophy
When you upload a PDF to PawPrint Print Center, some web browsers use their own PDF renderers, rather than Adobe's, resulting in printing issues with PDFs that are incompatible to PawPrint. Google's Chrome is a good example of a widely-used browser that uses a non-Adobe PDF renderer.
Opening the PDF document on your computer and printing using the PawPrint driver is the safest way to avoid this issue.
You have 8 hours to print after sending a document to PawPrint.
No. After you print a document, it will no longer be available in your print queue. If you want to print the document again, you will need to submit the print job again.
If your print job fails or cannot be printed because of a printer jam, toner issue, or other problem with the printer itself, use our mobile-friendly web application, PrinterFix, to report the problem. Instructions are available for adding PrinterFix to the home screen of your mobile device as well, providing a convenient way to report printer issues from anywhere.
PawPrint is available for Columbia's students, faculty, staff and affiliates as a 24/7 service. To maintain such a high service availability and standards, our system is updated regularly on the 4th Sunday of every month at 2AM. This service window does create a brief unavailability of the PawPrint service and is typically restored within minutes. If you've experienced a prolonged unavailability of the service, please review the CUIT Service Alert site for further information.
It depends on the type of systems you are using to print from your Mac:
For those who encounter this error when printing with Microsoft Office for Mac 2011 + PawPrint Print Driver, you should upload your document to PawPrint's Print Center instead.
For those who encounter this error when printing a PDF with the Preview application or a browser application + PawPrint Print Driver, you should download Adobe Acrobat DC for Mac and open the PDF and then open the file via Adobe Acrobat and print using the PawPrint Driver.